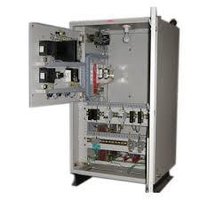 FCBC Charger Unit
Product Description
FCBC Charger Unit
What ?
A classic charger design in use since the late 1970s the the Float Cum Boost Charger FCBC charger units as we know them follow two modes of charging.
Sai-Tech FCBC chargers are designed to supply power to the load and the battery simultaneously. In an event of power failure the battery supplies power to the load.
When? (Applications of FCBC Chargers)
Sai-Tech Float cum Boost Charging units are essentially used in applications where uninterrupted power and zero compromise on quality is needed. Standard applications of Sai-Tech FCBC Units include:
Telecommunications Equipment

Railways/Locomotive Applications

Electric Substation

Tripping Systems

Control and Monitoring Systems
To see if our FCBC Chargers are suitable for your applications please reach out to us on info@saitechengineers.com
How?
The Normal mode of Operation for FCBC Charger is the 'Float Mode'.
In Float Charging Mode the FCBC (Float Cum Boost )Unit DC power is supplied to the Load while the battery is provided with Trickle Charging to keep it healthy.
In an event the charging current required by the battery goes beyond a present value , the 'Boost Mode' is activated.
Under the boost mode the charger boosts up the voltage level and current level to quickly charge the battery. Once the charging current falls below the preset value the boost mode is switched off and charger reverts to float mode.
Block diagram of Standard FCBC Unit
Contact Us
Plot No.- 113, Virar Industrial Premises, Pach Payree, Virar (East), Virar, Maharashtra, 401303, India
Phone :+918061882385